NR-242 PVC Profile Processing Center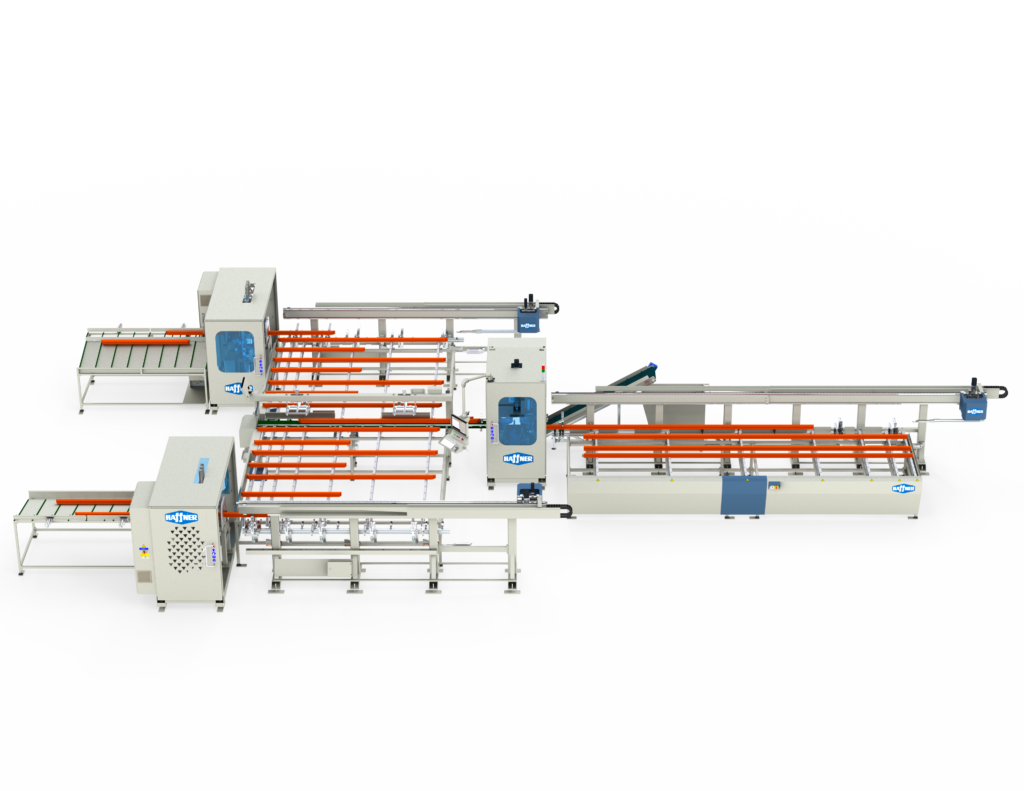 NR-242
NR-242 Profile Machining Center; 3 milling and cutting stations are designed to work independently and sychronized and to perform all milling, drilling, reinforcement steel screwing, routing and marking operations on PVC profiles in a single computer controlled machine. With the SCREW INSERTION FUNCTIONALITY INTEGRATED DIRECTLY IN THE TOOL RING, THE NR-242 can handle the work of several operators and machines. This system can be designed for most Tilt and Turn Windows Systems.
Overview
All sawing, routing, drilling, reinforcement steel screwing, marking operations on PVC profiles are grouped in one machine controlled by computer
Stacking of 10 profiles (max. 6,5 m length)
Manual barcode labeling system
Servo controlled automatic swing of the saw to all angles between 30° and 150° with 0.1° accuracy
Drain slot routing, drilling and routing at variable angles
Automatic screwing of reinforcement steels
Drilling of fixation, triple handle and hinge holes together with the reinforcement steel
Waste profiles longer than 500 mm can be re-processed
19" touchscreen enables easy control of the machine
High performance industrial PC works between 0°C – 55°C without a fan
Full integration with various window and door production software
Safe production with 3D crash and fault control system developed by Haffner software engineering
All error messages can be monitored from the screen
Online connection to the entire system, remote detection of malfunctions and maintenance
Automatic conveyor belt system to transport scrap profiles to waste container
Data transfer is available via network connection or USB interface
Central lubrication system eases maintenance
Available Options
End milling of transom profiles with two blade sets for two different profile cross sections
Specs & Sizing
Electrical rating: 400 V, 3ph, 50-60 Hz
Motor power: 30 kW, 80A
Saw diameter: Ø 500 mm.
Max. profile height: 140 mm.
Min. profile height: 35 mm.
Max. profile width: 130 mm.
Min. profile width: 35 mm.
Max. length of raw profile: 6,500 mm.
Max. profile machining length: 3,500 mm.
Min. profile processing length: 330 mm.
Air pressure: 6-8 bar
Air consumption: 1,200 lt / min
Machine height: 2,350 mm.
Machine length: 18,000 mm.
Machine width: 10,000 mm.
Machine weight: 10,800 kg.