SC-220/40 PVC Profile Processing Center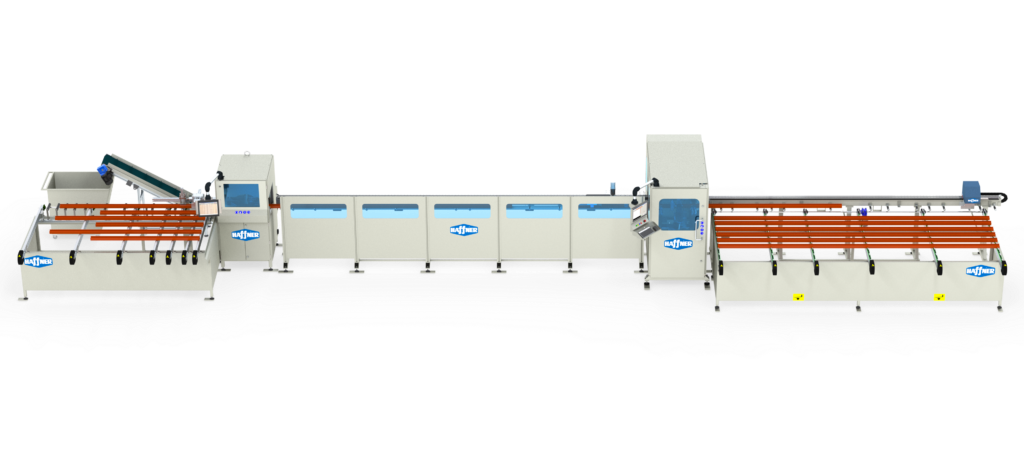 SC-220/40 SC-220/90
All sawing, routing, drilling and marking processes on PVC profiles are performed in one computer controlled machine. The processes carried out on 3 different machines (cutting, copy milling, routing drain slot) with 3 operators are converged in a single machine, while the production speed and quality standardization are ensured and labor resources are maximized.
Overview
All sawing, milling, drilling and marking operations on PVC profiles are grouped in one machine controlled by a computer
Stacking of 10 profiles (max 6,5 m length)
Automatic cutting in all angles between 30° and 150° with accuracy of 0,1° by means of servo motors
Work in high speed and precision due to 7 axis controlled by servo motors
Ability to open drain slot routing, drilling and milling at variable angles
Automatic conveyor belt system to transport scrap profile to the waste container
Opens barrel, mirror and handle holes at door profiles simultaneously to increase the production speed by using an extra servo motor
Notifies user against incorrect loaded profile due to profile recognition system
Performs all operations precisely by the 7 tools on the milling group
Manual barcode labelling system which works integrated with CNC lines
15" touch screen monitor
Industrial PC with Windows 10 which works between 0°C – 55°C without fan
Ability to work with the data input from different window production software giving minimum wastage
Safe production facility via 3D collision and error control system developed by Haffner software engineering. Visible on screen with interface program.
Problem identification, solution and servicing by means of remote connections
Data transfer is available via network and connection or USB interface
Ability to back-up daily data on internal storage unit
Shift monitoring system enables all operations to be controlled daily, weekly, monthly and yearly
Central lubrication system to ease the machine maintenance
Available Options
DV-410 Screw Unit can be added as an option for Reinforcement profile screwing
SC-220/90
Back saw with 500mm diameter, with angle adjustment for window sill profiles (+7° and -7°),
Max. profile processing width: 210mm
Specs & Sizing
Electrical Rating: 400 V, 3 ph, 50-60 Hz
Total Power: 15 kW, 37,5 A
Max. Profile Processing Height: 140 mm
Min. Profile Processing Height: 35 mm
Max. Profile Processing Width: 130 mm
Min. Profile Processing Width: 35 mm
Max. Length of raw profile: 6.500 mm
Max. Profile Processing Length: 6,500 mm
Min. Profile Processing Length: 330 mm
Air Pressure: 6-8 bar
Air Consumption: 608 l / min.
Machine Height: 2360mm
Machine Length: 15.300 mm
Machine Width: 3.600 mm
Gallery