TA-141
TA-141 Single Head Aluminum and PVC Profile Cutting Machine with a 350 mm saw diameter and adjustable exit speed, works with the principle of "under cut". TA-141 Single Head Cutting Machine offers wide angle range from 22.5 ° to 157.5 °; has special fixing points that can be easily adjusted for 45 °, 90 ° and 135 ° angles. Thus, the saw is fixed to frequently used main angles.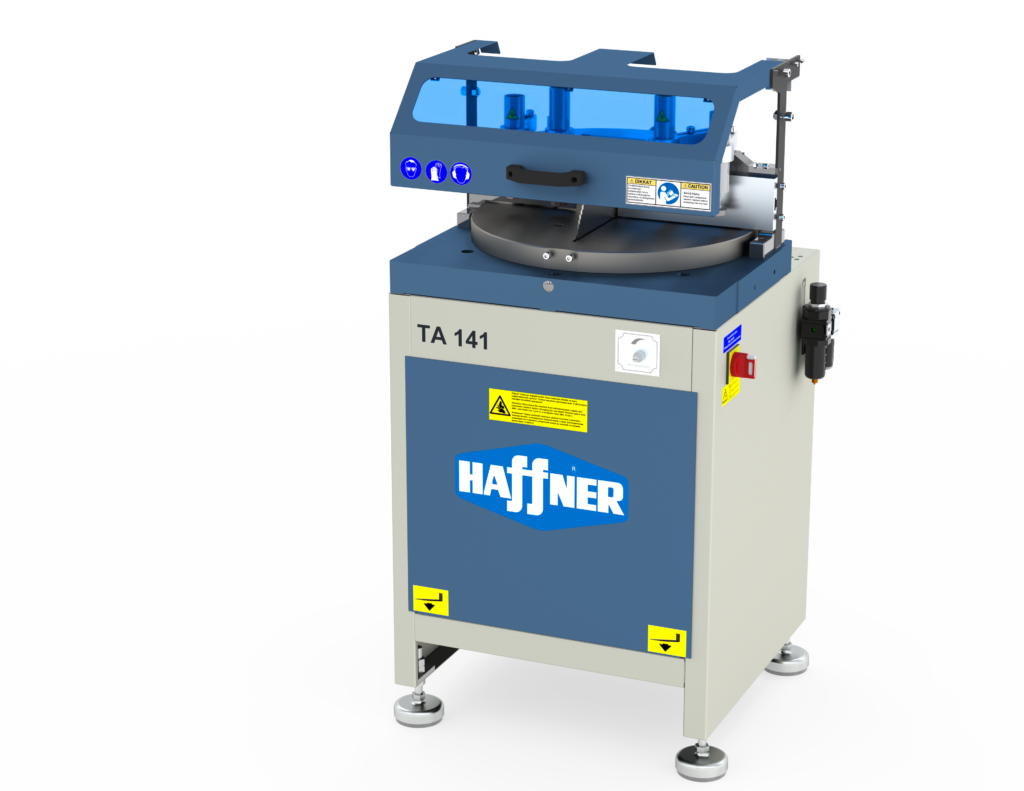 Overview
Pneumatic saw blade feed from below with 350 mm (13.77 in.) saw blade diameter.
Two-hand safety operation.
The saw blade feed speed can be adjusted.
Wide cutting angle range from 22.5° to 157.5° with special location points at 45°, 90° and 135°.
Vertical pneumatic clamps ensure optimum profile clamping.
Filter / Regulator / Lubricator for incoming air supply.
Pulse spray mist blade lubricant system.
Tool Kit.
Operating and Maintenance Manual.
Available Options
TK-060 Left and right conveyor system
TK-061 3m (118.11 in.) Right hand roller stock conveyor & measuring stop
TK-062 3m (118.11 in.) Left hand roller stock conveyor & measuring stop
MS-300 Automatic measuring and positioning system
AH-041 Hydro-pneumatic saw head feed system
Saw blades for different profile types
Chip collection systems
Specs & Sizing
Power supply: 240, 400, 480 or 575V, 3 ph. 50/60 Hz
Saw blade motor power: 2.2 kW (2.94 hp)
Spindle speed: 2,800 rpm (50 Hz), 3,360 rpm. (60 Hz)
Saw blade diameter: 350 mm (13.77 in.)
Working air pressure: 6-8 bar (90-120 psi)
Air consumption: 95 I/min. (3.35 cfm)
Machine height: 1,300 mm (51.18 in.)
Machine length: 800 mm (31.49 in.)
Machine width: 700 mm (27.55 in.)
Machine weight: 195 kg (430 lbs.)