TA-144 Automatic Aluminum Wedge Cutting Saw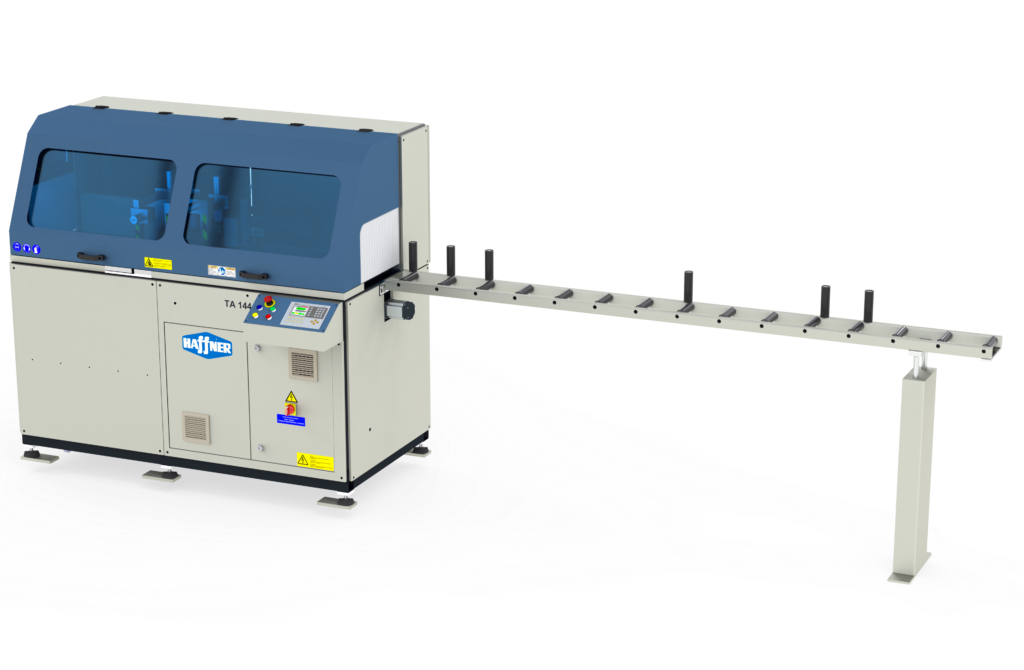 TA-144
TA-144 Automatic Saw with Ball Screw Material Infeed System can cut Aluminum profiles with high precision with a 600 mm diameter saw that works with the principle of "undercut" and speed can be adjusted. The saw, operating at a 90 ° angle with servo motor control, allows profiles to be cut at the desired height and speed, thus offering a wide cutting range. Again, the servo-controlled profile sliding system allows the profiles to be sliced to the desired length and thanks to the 0.1 mm cutting tolerance, wedges in equal dimensions can be sliced.
Overview
CNC control system.
Profile feed length, profile feed speed, cutting height and blade feed speed are controlled by servo motors.
Servo motors profile system can adjust feed speed according to the profile weight.
Maximum speed and ultimate accuracy with servo motor system; ± 0.1 mm (± 0.004 in.) cutting accuracy.
Maximum surface quality and dimensional accuracy with "Clean cut" system.
Horizontal and vertical pneumatic profile clamping system.
3000 mm (118.11 in.) infeed roller conveyor.
Ability to do automatic slicing.
Ability to create a cutting list.
Cutting list data transfer is available via network connection or USB interface.
Safety cover with window inserts and safety switch protection.
Touchscreen PLC.
Filter-Regulator-Lubricator for incoming air supply.
Pulse spray mist blade lubricant system.
Available Options
TK-060 Left and right conveyor system
TK-061 3m (118.11 in.) Right hand roller stock conveyor & measuring stop
TK-062 3m (118.11 in.) Left hand roller stock conveyor & measuring stop
MS-300 Automatic measuring and positioning system
AH-041 Hydro-pneumatic saw head feed system
Saw blades for different profile types
Chip collection systems
Notes
Voltages may require an external transformer
Consult factory for lengths and specifications not mentioned above
North American measurements are approximate
Haffner North America reserves the right to make technical changes at any time.
Specs & Sizing
Power supply: 240, 400, 480 or 575V, 3 ph., 50/60 Hz
Saw blade motor power: 2.2 kW (2.94 hp)
Spindle speed: 2,800 rpm (50 Hz), 3,360 rpm (60 Hz)
Saw blade diameter: 350 mm (13.77 in.)
Working air pressure: 6-8 bar (90-120 psi)
Air consumption: 95 I/min. (3.35 cfm)
Machine height: 1700 mm (66.92 in.)
Machine length: 2000 mm (78.74 in.) (+2900 mm (114.17 in.) conveyor)
Machine width: 1100 mm (43.30 in.)
Machine weight: 1100 kg (2,425 lbs.)