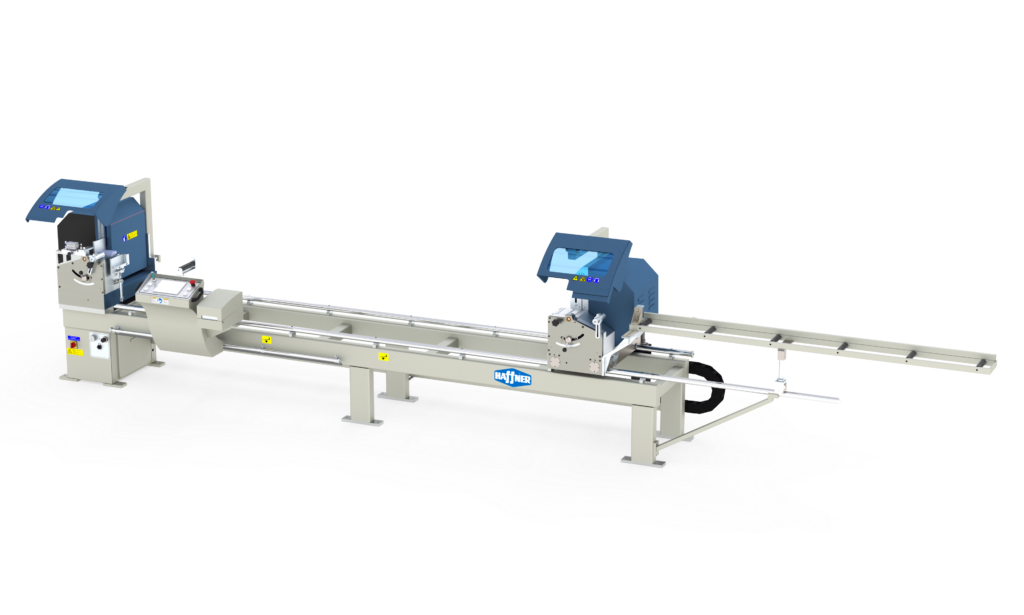 TT-405
TT-405 Double Head Cutting Saw, with strong construction for length and angle accuracy, cuts aluminum and PVC profiles with adjustable saw output speed. It cuts standard 4200 mm profile and has automatic tilt movement for saws in 45 ° and 90 °. Intermediate angles can be easily adjusted manually.
Overview
For PVC and aluminum profile cutting.
Solid cast construction for length and angle accuracy.
Excellent cutting quality.
Automatic tilt movement of the saw heads to 45° and 90°. Angles between 45° and 90° can be adjusted manually and fixed easily.
The 450 mm saw blade diameter enables to cut wide profiles as well as two 80 mm. profiles at the same time.
The saw blade feed speed can be adjusted.
Ability to cut 4,200 mm. length.
Due to PLC control system with Windows, the movable head positions itself automatically.
Piece numbers, length dimensions, angular positions and quantities can be programmed on the control panel (2000 x 10 different data points can be stored).
Data transfer is available via network connection or USB interface.
The control system can skip and then continue the cutting order.
Profile support conveyor fixed to the movable head helps to keep the balance of the work piece.
Automatic closing safety hood.
Horizontal and vertical clamping system ensure optimum profile fixing.
Available Options
AK-003 Barcode printer
AS-022 Cooling system to cut aluminum profiles
AH-042 Hydro-pneumatic system for aluminum profiles
AH-025 Aluminum cleat cutting system
AH-026 Extraction system
AH-046 Short and long cut system for 7m profile cutting
AH-044 Automatic arrow head positioning
Optional 6 metre machine
Specs & Sizing
Power supply: 400V, 3ph, 50-60Hz
Power output of each motor: 2.2kW
Max. profile width: 165mm
Max. cutting length: 4,200mm
Min. cutting length: 450mm
Min. wedge cutting length: 4.8 mm
Machine length: 4,950mm + 2,600mm