TT- 450 Double Head Mitre Saw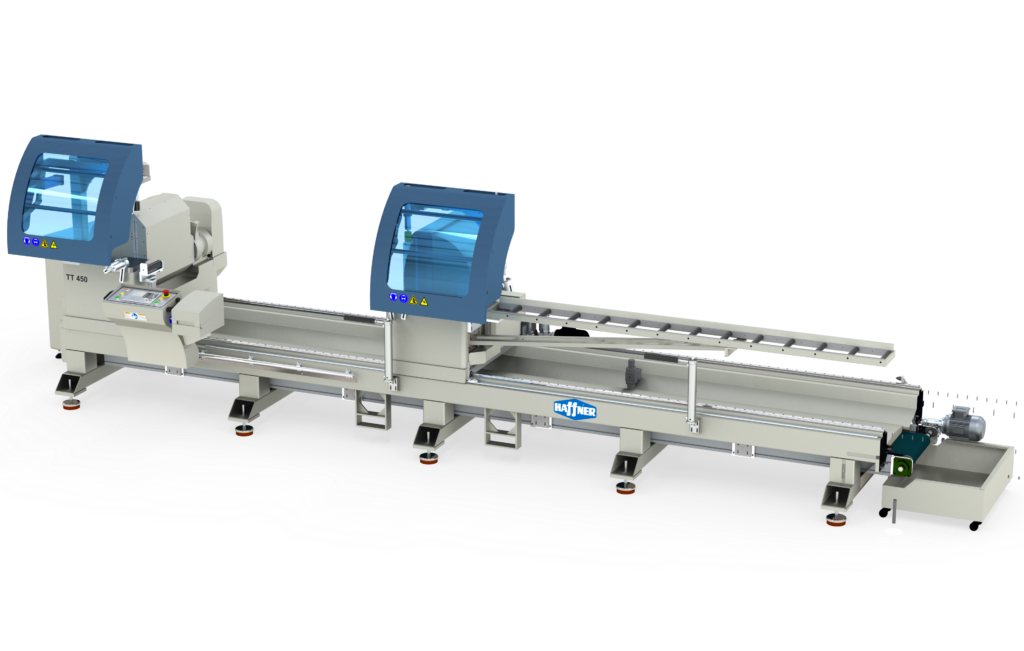 TT- 450
TT-450 Double Head Miter Saw can easily cuts Aluminum profiles with 2 saws in 500 mm diameter and working with the "oncoming" principle. Parts up to 4200mm can be cut automatically. It has a strong construction specially designed for cutting quality, length and angle precision.
Overview
Two-hand safety controls and automatic safety covers with window inserts.
Saw heads can cut inward or outward.
Angles between 45° – 90° and 90° – 135° can be adjusted manually.
Length, angle and cutting accuracy thanks to strong construction and linear bearing system.
500 mm (19.69 in.) diameter saw blade enables accurate cutting of different profile sizes.
More precise and serial cutting by tolerating failures which are caused by profile width with automatic profile measurement system during outward cutting process.
Can cut a maximum 4,500 mm (177.16 in.) long profiles.
Automatic positioning of the mobile head by means of a PLC control system with Windows CE.
Item number, length dimensions, angles and quantities can be programmed on the control panel (2,000 x 10 data points: able to cut in different program).
Data transfer by means of network connection or USB.
Adjustable saw movement speed.
Continues where it left by switching among different cutting.
Profile support conveyor on mobile head balances the profile being worked on.
In long-length profile cutting, automatic support mechanisms which work between the fixed and mobile head prevents profile deflection and provides smooth and precise cutting.
Horizontal and vertical clamping system to ensure optimum profile clamping.
Filter-Regulator-Lubricator for incoming air supply.
Pulse spray mist blade lubricant system.
Operating and Maintenance manual.
2-year Limited Warranty (see Notes).
Available Options
Chips are transported to the evacuation tank by an automatic conveyor belt during the cutting process
Automatic sawing (cut-off) software (90° cutting only)
Chip collection system
Machine can be produced for 6,000 mm (236.22 in.) and 7,500 mm (295.27 in.) maximum cutting lengths upon request
Barcode printer
Saw blades for different profile types
Notes
Operating voltage may require an external transformer
Consult factory for lengths and specifications not mentioned above
North American measurements are approximate
Months 1-12 of the limited warranty cover parts and labor; months 13-24 cover parts only. See our Warranty Statement for details
Haffner reserves the right to make technical changes at any time
Specs & Sizing
Power supply: 240, 400, 480 or 575V, 3 ph, 50/60 Hz
Connected load: 6.55 kW (18.54, 11.12, 9.27 or 7.74 A (calculated))
Saw blade motor power: 3 kW (4.02 hp) x 2
Saw blade speed: 2,800 rpm (50 Hz) or 3,360 rpm (60 Hz)
Saw blade diameter: 500 mm (19.69 in.)
Minimum cutting length: 350 mm (13.77 in.)
Maximum cutting length: 4,500 mm (177.16 in.)
Working air pressure: 6-8 bar (90-120 psi)
Air consumption: 60 l/min. (2.12 cfm)
Machine height: 1,750 mm (68.89 in.)
Machine length: 8,000 mm (314.96 in.)
Machine width: 1,700 mm (66.92 in.)
Machine weight: 1,800 kg. (3,970 lbs.)